FROZEN PANGASIUS STEAK
– Pangasius Hypophthalmus –
Description
 Specification

 Frozen pangasius (Basa/Dory) steak, skin on, bone in

 Quantity

 20' FCL 1,100 cartons; 40 'FCL about 2,200 cartons (+/- 10%)

 Size

 14/6 pieces/ kg

  (Under specific requirements from customers)

 Weight

 100%, 90%, 80% (or % glazing on request) 

 Packaging

 1kg/ PE with rider, 10kg/ carton with straps. Weight of each bag can be adjusted based on customer's requirements

 Origin

 Vietnam

 Incoterm

 CFR, CIF

 Payment term

 L/C, T/T, etc.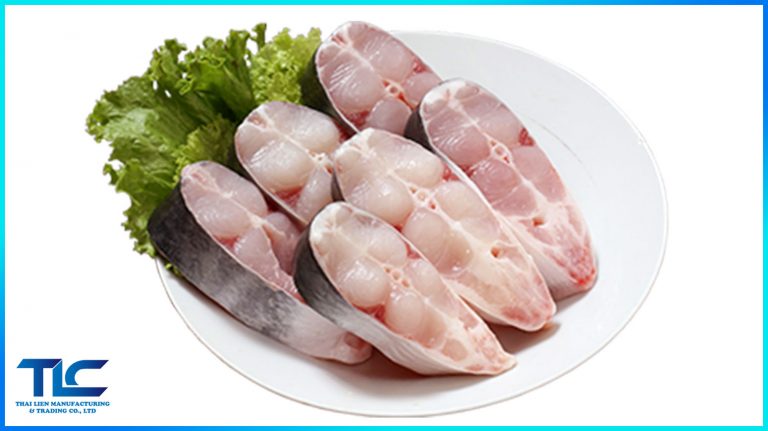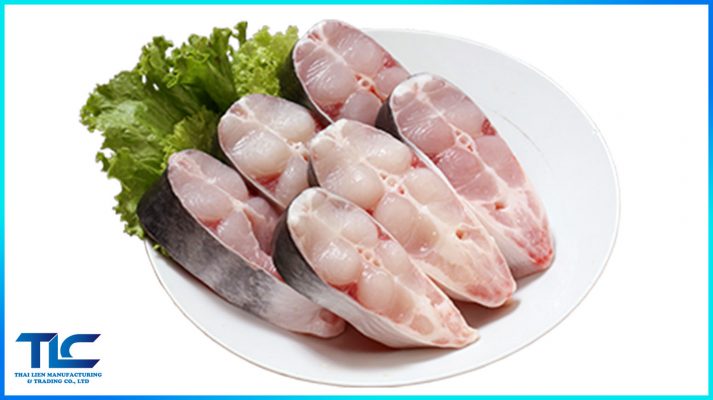 Pangasius Hypophthalmus has been bred in cages along the Mekong River in Vietnam for a long time in order to produce white meat, firm texture, sweet and delicious flavour traits. In recent years, Pangasius (Basa/Dory) fish have been grown in large ponds and industrial farming processes, as well as HACCP standards and strict adherence to international standards, have been enforced.
As a result, the value of output and exports in Vietnam for Pangasius (Basa/Dory) fish has increased. Vietnam has become one of the biggest producers and exporters of Pangasius fish. Basa products are available in over 80 international markets. Consumers worldwide have grown to favour them as an economical and simple choice.
The source of supply is constant and large quantities of Pangasius/Basa/Dory are farmed. TLC Thai Lien and its reliable partners aim to provide fresh raw material and quality, fresh fish in lots. We meet global sustainability standards such as Global GAP and ASC to ensure our products are of the highest quality.
Address: 6th Floor, Perfect Tower, 150Bis Le Thi Hong Gam, Cau Ong Lanh Ward, D1, Ho Chi Minh City, Viet Nam
Mobile/Wechat/Whatsapp: (+84) 908 794 118
Email: thaiphuong@tlcthailien.com – fionathai.thailientlc@gmail.com
Fanpage: Thai Lien Viet Nam
Why us?

TLC – Thai Lien Manufacturing & Trading Co., Ltd specializes in exporting Dried Fish Scales and Frozen/Dried Pangasius Skin with premium quality and competitive price to many countries. With large supply ability and good standard about quality, Asia area and some countries in Europe became our main markets with different specifications from different customers. We are completely confident that we can meet your demand and bring the best satisfaction to you.
OUR VISION: Becoming a leading enterprise in processing and trading seafood in Vietnam as well as in Asia.
OUR MISSION: Bringing delicious, tasty seafood to everyone. Always paying attention and developing the human resources, sharing benefits and keeping on moving forward.
OUR CORE VALUE: TLC THAI LIEN is proud to build a corporate culture with human values towards people and create incentives for employees to work hard to contribute.